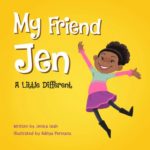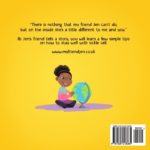 My Friend Jen is the series of children's books written by Jenica Leah with the aim to promote sickle cell awareness and to give young children with sickle cell the peace of mind she didn't have. It is a great tool for creating a better understanding of the blood disorder. The first book in the series, entitled: 'A Little Different' explains the basics of sickle cell and how to stay well with the condition in such a fun and informative way that even adults can learn from it too. The message within this book is to help children with sickle cell to realise that there is nothing they cannot do, as long as they manage their condition properly.
The author Jenica Leah has sickle cell anaemia and has battled with the many complications that can come with the disorder such as stroke, acute chest syndrome and avascular necrosis, just to name a few. She now manages her condition well and believes that if she and those around her had understood more about the condition when she was at a younger age, she could have avoided a lot of crises along the way. Jenica hopes to change that for children growing up with sickle cell today with this series of books.
For more about the author and her journey, check out her blog.
For bookings (workshops / school readings / educational & motivational talks) please email: jenica@myfriendjen.co.uk.